America's Must See Halloween & Haunted Attractions > Must See Corn Mazes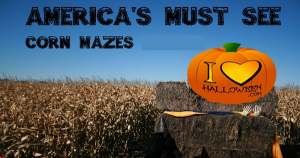 There's an endless amount of entertainment that takes place during the Fall Season. Corn Mazes are a popular tradition among many families across the country. It's a time to enjoy the switch in weather, depending upon where you live, and for an opportunity to bond with family as you do your best to find your way out! Check out some of the greatest Corn Mazes throughout the United States below and get your Fall bucket list ready!
---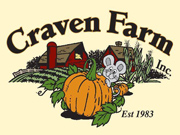 Craven Farm has been in operation for over 30 years and offers a ton of seasonal fun during the Fall Season. There's a 15-acre Corn Maze, a Kids Adventure Maze, 20-acre Pumpkin Patch, Human Foosball, Duck Races, Hay Ride to Minionville, Apple Slinger, Face Painting, Farm Animals, Storybook Pumpkin Scenes, Scarecrow Making and more!
---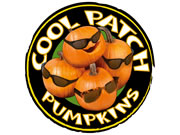 At Dixon's Cool Patch Pumpkins, visitors can find the perfect pumpkins in their 40-acre Pumpkin Patch, wander through the World Record Corn Maze, enjoy Hay Rides, the Fun Zone, Pedal Cars, delicious seasonal food and beverages and more!
---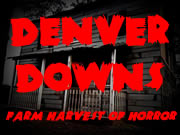 There's an endless amount of seasonal entertainment offered at Denver Downs, including family-friendly fun and spooky fun for those who are brave enough! There's The Harvest of Horror haunted attraction, the Dark Harvest Penitentiary, Bates Motel, Haunted Farm House and Haunted Trail for the thrill seekers to enjoy. And for those who are interested in family fun, there's a Corn Cannon, Tube Slide, Farm Animals, Duck Races, Horse Shoes, Corn Hole, Pig Races, a Children's Zip Line and so much more!
---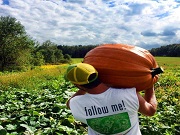 Take on a number of farm attractions at Coolspring, including a Corn Maze, Hay Ride, Pedal Tractor Racetrack, 40′ Mountain Slides, The Barnyard Board Game, an Indoor Jumping Pad, Cow Train, Gemstone Mining, Pumpkin Blasters, Horse and Pony Rides, a Mechanical Bull, plus delicious seasonal treats and beverages, along with a ton of other great activities for the family to enjoy.
---
There's a ton of Fall and Halloween fun offered at Devine's, including the Field of Horror during Halloween time and a Corn Maze, Pumpkin Patch, Hayrides, Duck Races, Corn Hopper and Tube Swings for the families to enjoy together. There's even Zip Line Racers and Cornstalk Wars Paintball!
---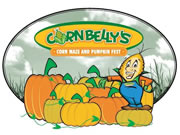 With more than 40 fall and haunted attractions, there's a ton of fun to be had at Cornbelly's! Enjoy the 12-acre Corn Maze, Grain Train Maze, Kiddie Maze and the Haunted Insanity Point Maze for those who are brave enough! There's also the Pumpkin Princess Playland, Pedal Karts, Pig and Duck Races, Chicken Show, Kiddie Corral, Cow Train, Jumbo Jumper, Hayrides and more!
---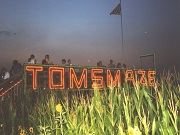 Tom's Maze features eight acres of cornfields and isn't your ordinary maze, as visitors must solve a puzzle in order to escape! There's twists and turns and you're bound to get lost more than once, but add a challenging puzzle to the mix and it's even harder to find your way out!
---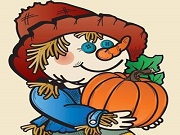 Situated on a farm that features 90 acres, A-mazing Acres is jam packed with seasonal fun and family entertainment. Explore the 20-acre corn maze that offers over 3.5 miles of paths, take a ride on the hayride that goes around the farm, check out the horses and pick your perfect pumpkin in the pumpkin patch!
---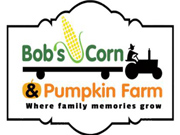 With over 40 acres, there's more than enough space for a ton of seasonal fun to take place! Families can enjoy a kids corn maze, rope maze, cow train, sand pit, corn crib, big slides, firepits, face painting, a 10-acre corn maze, delicious seasonal foods and beverages and much, much more!
---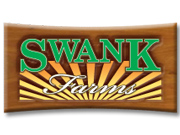 Get a dose of family friendly Fall fun at Swank Farms, along with Terror in the Corn to celebrate the Halloween Season! Daytime activities include Pumpkin Picking in the Patch, the Corn Maze that you're sure to get lost in, Pedal Karts, Cow Train, Pumpkin Sling Shot, Corn Cannon, Sumo Wrestling, Gemstone & Fossil Mining, Giant Jumping Pillow and Kiddy Corral. Then when the sun goes down, thrill seekers can take on the dark and eerie cornfields that are Terror in the Corn!
---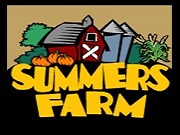 With 12 acres of cornfield, Summers Farm offers an array of seasonal entertainment that is sure to keep your entire family busy well until Winter arrives. Along with their enormous corn maze, families can enjoy pumpkin picking, campfires, a pumpkin cannon, pig races and hay rides, among other fun activities!
---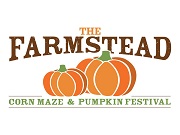 The Farmstead Corn Maze is Idaho's original corn maze and stretches over 18 acres of land. A new design is created each year for families to wander and find their way out. Along with the corn maze, Farmstead also offers a pumpkin patch, hay rides, potato sack slide, small zip line and a ton of other great family-friendly activities.
---
Located on a 15-acre farm, Cherry Crest Adventure Farm's corn maze sprawls over five acres and features more than 2.5 miles of walking paths, and even some bridges along the way! There's along more than 60 rides and activities for those of all ages to enjoy.
---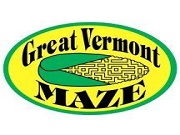 The Great Vermont Corn Maze is the largest in all of New England and features a new design each year. Offering a large corn maze that is a bit more challenging, the adults can wander and try to find their way out, while the younger crowd can take on the smaller, less-challenging maze. There's something for everyone at the Great Vermont Corn Maze!
---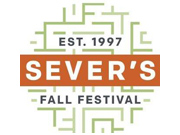 Celebrating 20 years in 2017, Sever's Corn Maze offers a variety of fun Fall activities for the entire family to enjoy. Along with their Corn Maze and Maze Challenge, there's also pumpkin picking, pig races, a corn pit, exotic petting zoo, jumping pillows, wildlife shows, pony rides, a giant slide, pumpkin blasters, hay rides, zip lines and much, much more!
---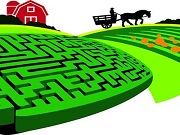 The award-winning Treinen Farm Corn Maze in Lodi, Wisconsin has a ton of fun throughout the Fall Season. Along with their 15-acre corn maze that features six miles of turns, Treinen Farm also offers pumpkin picking, bonfires, horses, hayrides, a Zompocalypse, delicious food and more!
---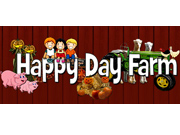 Offering over 10 acres of family fun, Happy Day Farm has a whole lot of entertainment to keep both the adults and kids busy during the Fall Season. Venture through their 13 acres corn maze, check out the sunflower maze, hay rides, 6 piece wooden train, corn hole, pig races, pedal carts, tire mountain, horse shaped swings and a kids corner for the little ones ages 2-6!
---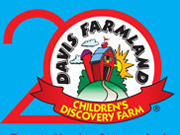 This Children's Discovery Farm offers a Mega Corn Maze, animal interactions with over 100 breeds, an animal showcase, play & spray, Adventureland, imagine-acres, pumpkin picking, apple picking, pony rides, hay rides, delicious seasonal food and beverages and more!
---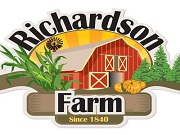 Enjoy a ton of on-farm experiences, including a 700-foot long zip line, pumpkin picking, group picnics, pedal carts, jumping pillows, an intricately designed corn maze, along with over 20 other activities that can be enjoyed by those of any age!
---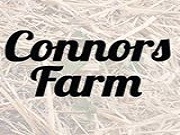 Featuring over 50 daytime attractions, Connors Farm offers a 7-acre corn maze, apple picking, barnyard animals, barnyard twister, campfires, corn hole, a corn tunnel, cow milking, a cow train, pumpkin blaster, paintball gallery, duck races, face painting, hayrides, horse swings and much, much more!
---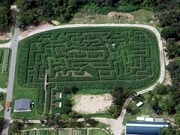 The Queens County Farm stretches over 47 acres and offers a ton of family fun during the Fall Season. With activities for those of all ages to enjoy, their Corn Maze offers tons of twists and turns that you're sure to get lost in!
---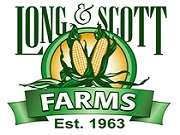 Explore two different corn mazes at Long & Scott Farms, including a one acre maze and a six acre for those who are up for more of a twisty challenge! Before entering the maze, visitors will receive a game sheet and flag and will have to work together as a team to find their way out and learn about the yearly theme.
---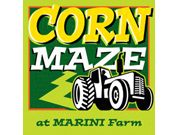 Make your way through the twists and turns of the 8-acre corn maze at Marini Farm, which is both educational and interactive. With over 18 stations that are strategically placed throughout the maze, guests will have a game sheet and must find their way out of the maze that offers 10 miles of paths! A finished game sheet is a finished maze!
---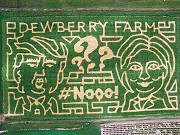 Along with the enormous corn maze at Dewberry Farm, families can also enjoy pumpkin picking, wagon rides, a cow train ride, rat racers, a puzzle maze, duck races, pig races, giant roller slide, corn box, a sports ball zone, the barnyard and more!
---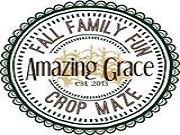 Take on the elaborate corn maze at Amazing Grace, and enjoy a fun-filled day of seasonal entertainment, including a jump pad, corn hole, a cow train, duck races, pumpkin picking, a corn crib, barnyard ball zone and hayrides!
---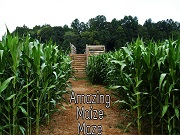 Located at Historic Rural Hill, the Amazing Maize Maze offers seven acres and is one of the largest in the Southeast. With over two miles of interconnecting paths, families will enjoy getting lost throughout the corn while trying to find their way out! Along with the corn maze, visitors can enjoy other activities such as hayrides, corn hole, mini mazes, picnics, hiking, pumpkin picking and more!
---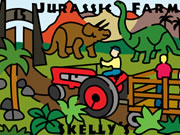 Skelly's has been creating a corn maze each Fall since 1998 and offers over 15 acres of corn field for visitors to get lost in. There's also Farmer Jack's Wagon Rides, Pumpkin Cannon and Slingshot, and free activities, including The A-Mazing Obstacle Race, Ducky Derby, Corn Box, Farmer Fred's Rockin' Barnyard, Pumpkin Checkers, a Playground and more!
---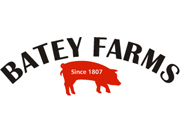 This 8th Generation family farm has been providing farm fresh sausage and pork products since 1807 and offers a whole lot of seasonal fun for the family to enjoy. Along with their corn maze, visitors can also enjoy pumpkin picking, hayrides, fire pits, a strawberry patch, flash light maze and hay tower!
---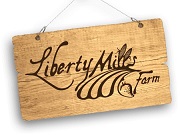 At Liberty Mills Farm, families can choose to complete one or all four maze trails, with just one ticket! The maze offers 25 acres of corn, filled with twists and turns that are designed to make sure you get lost! There's also hayrides and an activity area where the little ones can enjoy a ton of seasonal fun.
---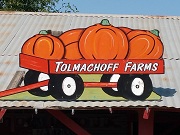 Wander through Tolmachoff Farms' six acre family corn maze, which features a fun and new theme each and every year. Visitors search for pieces of their map as they journey through! There's also a mini corn maze for the little ones to explore, a pumpkin patch, haunted corn maze, petting zoo, train ride, corn box, hay pyramid and more!
---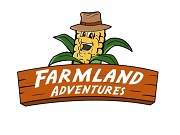 Farmland Adventures offers a variety of Fall attractions, including a 9 acre giant corn maze, pumpkin patch, wagon rides, pony rides, farm animals, pig races, and a kids play area for the little ones to make the most out of the season!
---
Comments
comments