Pumpkin Spice – a American fall flavor favorite has made its return for the 2018 Fall & Halloween Season! According to data from Nielsen, "pumpkin" flavored products sales have been on the rise and it's at an all-time high. So, what are some of the latest "pumpkin" flavored products you can find now and in the weeks to come?
DRINKS
Baskin-Robbins Pumpkin Cheesecake Cappuccino Blast
Diary Queen's Pumpkin Pie Blizzard
Dunkin' Donuts' Pumpkin and Maple Pecan Flavor Coffees
Starbucks Pumpkin Spice Latte
Teavana Pumpkin Spice Chai Tea
DESSERT / ICE CREAM
7-Eleven's Pumpkin Pie 7-Select Ice Cream
Carvel Pumpkin Soft Serve Ice Cream and Pumpkin Pie Flavored Ice Cream
Cheesecake Factory's Pumpkin Pecan Cheesecake or Pumpkin Cheesecake
TCBY's Pumpkin Pie Yogurt (scheduled launch Oct. 1)
DOUGHNUTS / PASTRIES
Aunt Anne's Pumpkin Spice Pretzel Nuggets
Dunkin' Donuts' Pumpkin Donut and Muffin
Krispy Kreme's Pumpkin Spice Cake Doughnuts
Panera Bread's Pumpkin Muffin and Iced Pumpkin Cookie
SUPERMARKET GOODS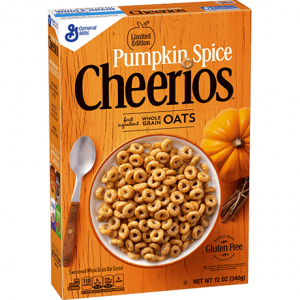 Pumpkin Spice Cheerios.
Cereals: Pumpkin Spice Cheerios; Special K Pumpkin Spice; Kellogg's Frosted Mini Wheats Pumpkin Spice; Life Pumpkin Spice; and Pumpkin Spice Frosted Flakes.

Cookies: Milano Pumpkin Spice cookies; Pepperidge Farm Pumpkin Cheesecake Cookies; Snyder's Pumpkin Spice Pretzel Pieces; and Oreo Pumpkin Spice cookies.
Yogurts: Chobani Pumpkin Spice Greek; Dannon Light & Fit Pumpkin Pie; and Oikos Pumpkin Pie Greek yogurt.
Other Goods: Kellogg's Pumpkin Pie Pop-Tarts; Thomas' Pumpkin Spice English Muffins; Nestle Coffee-mate's Pumpkin Spice Creamer; Pumpkin Spice Pillsbury Grands; and Samuel Adams Harvest Pumpkin Ale.
Let us know in the comments below which are your favorite pumpkin flavored products!
Comments
comments